50 INCHES OR BETTER:
It's All About The Measurements!

Welcome to 50 Inches Or Better, our platform celebrates and features Naturally Curvy Plus Size Women. Our content is for a mature audience but it is not pornography. You will NOT see models involved in sexual acts. You will see sexy, tasteful Bootylicious photos of curvy women that represent urban beauty aka around the way girls.

We hope that any woman out there viewing our website that is not happy or confident with their size can find some type of relief or inspiration from our platform. The featured models are just like you, natural, unique and loved by MANY. Enjoy the sight!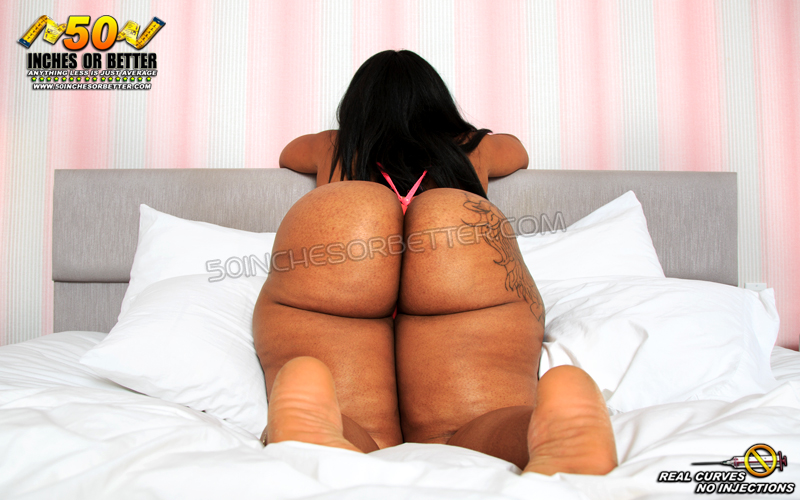 It's PHAT Friday!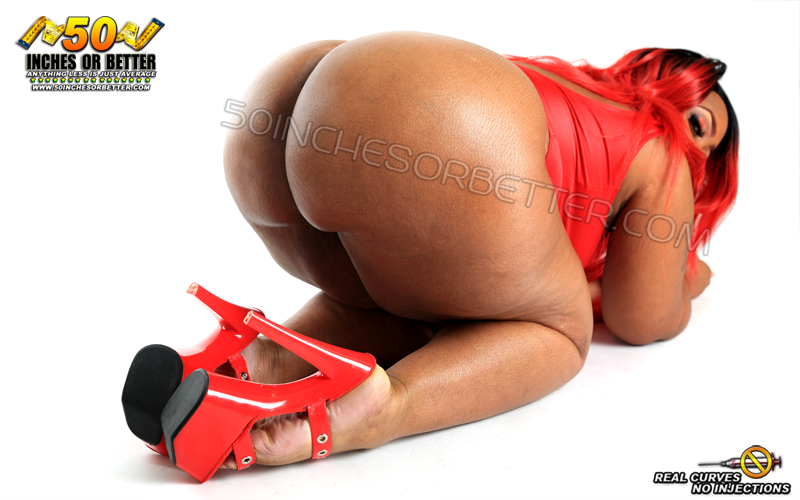 Wow! We had to share this bootyful shot of Destiny. She may not have 60' inches of ass but she definitely have a phat pretty natural booty. A thick 53' plump inches! How many of you can imagine yourself behind that phatty. See more Bootylicious photos of her and other juicy booty models in the members area. Click Here to join now.

Thyknis: 63.5' All Natural Inches

She goes by the name of Thyknis for a reason, when you see her the first thing that THICKNESS! She's got the Curves and those Hips of hers are something to remember. Guys if you're a fan of Ms Thyknis see more of her in our Members Only Section of the site. Click Here to join now.
SEE MORE OF THESE AMAZING CURVES
CLICK HERE TO BECOME A MEMBER
Destiny: 53' All Natural Inches

Introducing Destiny, she is one of our newest models our online magazine. She's got Thickness & Booty wrapped up in a nice package. She's representing the Curvy ladies with 53' inches of ass! She's confident, comfortable with her body and who she is as a woman. It's good to see women who inspire other women to accept their sexuality and flaunt it! See more of her in our Members Only Section Click Here.

We know some people don't believe all this ass is 100% real. And we don't blame them for being skeptical since there's a lot of pump'd up booties out here these days. That's why we don't only show you real un-enhanced photos. But we show you real video footage from some of our shoots. So you can see for yourself that it's 100% All Natural, no photoshop! These Booties look amazing on camera, you won't believe your eyes how some of them are put togethere. You can see more in the Members Only section if you Click Here.
SEE MORE OF THESE AMAZING CURVES
CLICK HERE TO BECOME A MEMBER
Da Butt: 65' All Natural Inches

She's BBW & Big Booty Lover's dream wrapped all in one nice Bootylicious package! Her Butt is so Big that it's actually what people call her. With a name like Da Butt you know you have to live up to it and that she does. It may be too much Booty for some but bets believe you won't be able to stop looking whether you like it or not. You can't miss it even if you tried, it'll be all in your face like "what's up". Make sure that you check out our Members Only area to see how we captured this Mega Big Booty the 50 Inches Or Better way Click Here.

Fye Bottom: 60' All Natural Inches

Well known across the internet for her Huge, Wide Booty! She has the Awe effect on those who Love Big Bootie. That's saying alot because there is hella women with big asses competing all over social media today. Fye Bottom will be at the Top of List I guarantee her name will come up in any conversation about Big Asses! So since our platform and movement is to feature and represent the Original Big Natural Booties we had to have her represent for the culture. Click Here see more of this Bootyful Model.
SEE MORE OF THESE AMAZING CURVES
CLICK HERE TO BECOME A MEMBER
Ms Hydro: 59' All Natural Inches

Ok, so if you're a fan of Big Booties you definitely already know who this is. And if you don't, that's cool because I bet you'll never forget now that you've been introduced. One of the most eye-catching Booties online today! You've probably seen some of her viral Big Booty home videos circulating online. She drives Booty Lovers Crazy! We had the pleasure to work with this Amazing Ass and shoot some high-quality content. Giving you guys those views and angles from our perspective. Hey man, if you Love Big Asses Click Here.

Thyknis: 63.5' All Natural Inches

Thyknis really showed her ass on this update (pun intended). All that Booty, 63.5 inches of Natural Ass is really looking good. And we can't forget those wide hips! Hey fellas, if you're already a fan of Thyknis you know how all those inches make you feel. If you're not a fan of her yet, when you get into the Member's Area. Take the time to really check out that ass and wide hips. You'll be a fan of Thyknis after that, Click Here see more.
SEE MORE OF THESE AMAZING CURVES
CLICK HERE TO BECOME A MEMBER
Cali Kurvez: 57' All Natural Inches

Cali with the 57' inch kurves! She's definitely big boned lol thick den a mugg, all natural too. Cute & curvy with mucho ass to make any man want to worship. As you can tell from her promo pics, Cali is confident and not ashamed to show off that Big Ole Booty of hers. Big Booty lovers will definitely appreciate what Cali has to bring to the table. Click Here see more of her.

Lucky: 63.5' All Natural Inches

Lucky is her name, some say those panties on her ass are lucky as well. We met Lucky online, a few of her fans contacted us and said they'd like to see her shoot with us. So we reached out to her, she had already heard about 50 Inches Or Better and didn't mind shooting. She is pretty conservative on her social pages but she loosened up for the photo shoot just so her fans and our audience could admire that 63' 1/2 inch booty. So who's lucky now? Click Here see more of her and show love if you'd like to see her back on the site.
SEE MORE OF THESE AMAZING CURVES
CLICK HERE TO BECOME A MEMBER